Biography
Early life
Little is known about the Barber. Rumors said he was a descendant of Baltasar de Silva, and was abducted as a child to be trained.
Episode 1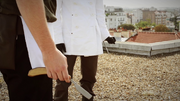 He was supposed to be protecting Philippe Henriot at all costs, but Peter & Heloise successfully drawn him away from the him.
Peter fought him and disarmed him, and though the Barber was asking for mercy, knowing that Henriot was dead, Peter stabbed him in the chest.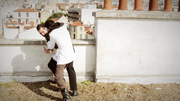 Personality and Skills
Like his ancestor, he used a razor to fight.
Trivia
Ad blocker interference detected!
Wikia is a free-to-use site that makes money from advertising. We have a modified experience for viewers using ad blockers

Wikia is not accessible if you've made further modifications. Remove the custom ad blocker rule(s) and the page will load as expected.